❤️ Easily Start Losing Weight Today ❤️
I've struggled with weightloss since I was 8 years old. My whole family was overweight, and the way we ate made it impossible for me to be a healthy weight.

By the time I was 15, I felt miserable and my confidence was shot. I wanted to be fit, healthy, and happy but I was none of these.

My feet were always hurting, I was tired 24/7, I had an uncontrollable hunger, always sweaty, I lived off mountain dew and sodas, and every meal I ate was boxed food or fast food.

No matter what clothes I wore, I felt so uncomfortable and embarrassed in my body.

After 20 years of dieting and crashing, I finally learned how to lose weight without either starving myself, developing an eating disorder, or crashing after I dieted.

Getting healthy and losing weight is now very easy.

With all of the junk programs that have plagued the weightloss community, it seemed like there was no hope for most of us.

"You can only lose weight if you are eating terrible food you hate!"

Yeah right...

You can quickly turn your body into a fat burning machine WHILE eating food you love ❤️

I made a weightloss recipe book that makes losing weight easy and delicious 😋

Here is what others have said about our easy weightloss cookbook: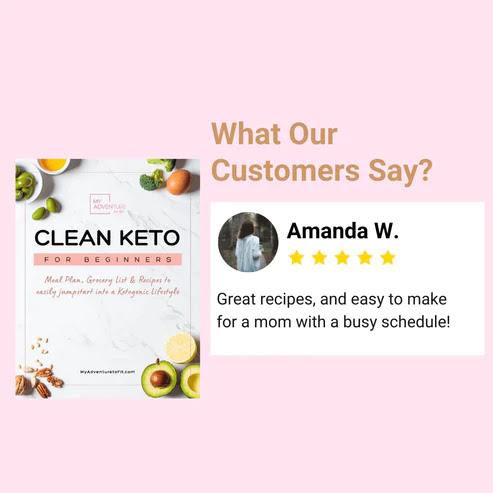 7 day clean keto menu includes:

Breakfast, lunch, dinner and snacks for every day.

Macros and calories for all meals.

Easy Recipes for each meal, simple enough anyone can do it :)

Chewy Chocolate Chip Cookies
Cinnamon Rolls
Pavlova (Pastry with cream and berries)
Pumpkin Cream Cheese Muffins
Pepperoni Pizza
Keto hot cocoa
Homemade Ranch (the best ever)
Cheddar biscuits
& more :)

A full grocery list with how much of everything is needed.

And what a day should look like on clean keto.

Options for popular intermittent fasting schedules.

40 pages of recipes/everything you need.

This plan is gluten free, but does contain dairy.

A ketogenic diet consists of high healthy fat/low carb/moderate protein.
All of us have made a New Years resolution to lose weight, get healthy, and feel our best.

Our Weightloss and Recipe Guide is the best way to start this today!



Don't miss out on the benefits many of us have experienced:

- More energy
- Reduced Inflammation
- Working Digestion
- No More Bloating
- No More Constipation
- No Acid Reflux
- Consistent Fat Loss
- More Lean Muscle Mass
- Less Sleep Needed
- Not Hungry Every Hour
- Able To Fast Without Getting Hangry
- Food and Sugar Addiction Gone
- Feeling Happier
- Anxiety and Discomfort Gone
- Achieving Weightloss Goals
- Community Support and Answered Questions
Xoxo,
Tiffany